15% OFF!
COUPON CODE:
SLUG2018
LIMITED QUANTITIES!
free shipping!
---
How Do Slugs Work?
---
VIDEO TESTIMONIALS
BENEFITS
FIX YOUR MISTAKES:
Can't drive the ball? No whip? Decelerating at the point of impact? Not following through? All these mistakes are revealed instantly with your Slugs. Force yourself to hit the dead center of the ball without any cutting or rolling. Your kids and can take control of their training today!
 
CONVENIENCE:
Safety nets are helpful but no longer necessary, as the balls are heavy and won't travel as fast as a baseball, allowing you and your team to practice safely without worrying about a ball hurting anyone.
 
100% SATISFACTION GUARANTEE:
Your Slugs come with a 100% Satisfaction Guarantee. Our customer service is dedicated to addressing any issues and is committed to delivering a 5 star experience for all buyers. If you're not happy with your product, simply return it for a full refund. You really have nothing to lose!
 
---
MORE TESTIMONIALS
For the price these can't be beat. Got them for my son we both like them better than the other high dollar brand. Will be buying more for side and front toss. Gotta get my lil all-star stronger, swinging through the ball!!
-FRANK J
 
This training aid is working wonders. My 13 yr old hits about 350'. We are looking for consistence and ease of getting reps. We may pick up another 6-12 of these. Immediate input on his swing. It is amazing how some sand in a silicone ball can show you your swing defects. We call them truth detectors. The orange ball doesn't lie!!!
-JOHN R
 
I am happy with this purchase. These balls do as well as some that are more expensive. After limited use, they appear to be durable and well made. They travel about 20 to 40 feet depending on the power of the batter. Great for limited space. Helps the batter finish their swing. Great training/teaching tool for a variety of ages.
-MATTHEW W
 
These are awesome. Used in every weather condition, perfect for a quick round of bp in a small area. Don't have to pitch at full distance because they fly slow. 6 is a good amount since you don't have to shag but 12 would be better. Ordering another box real soon.
-MIKE M
 
---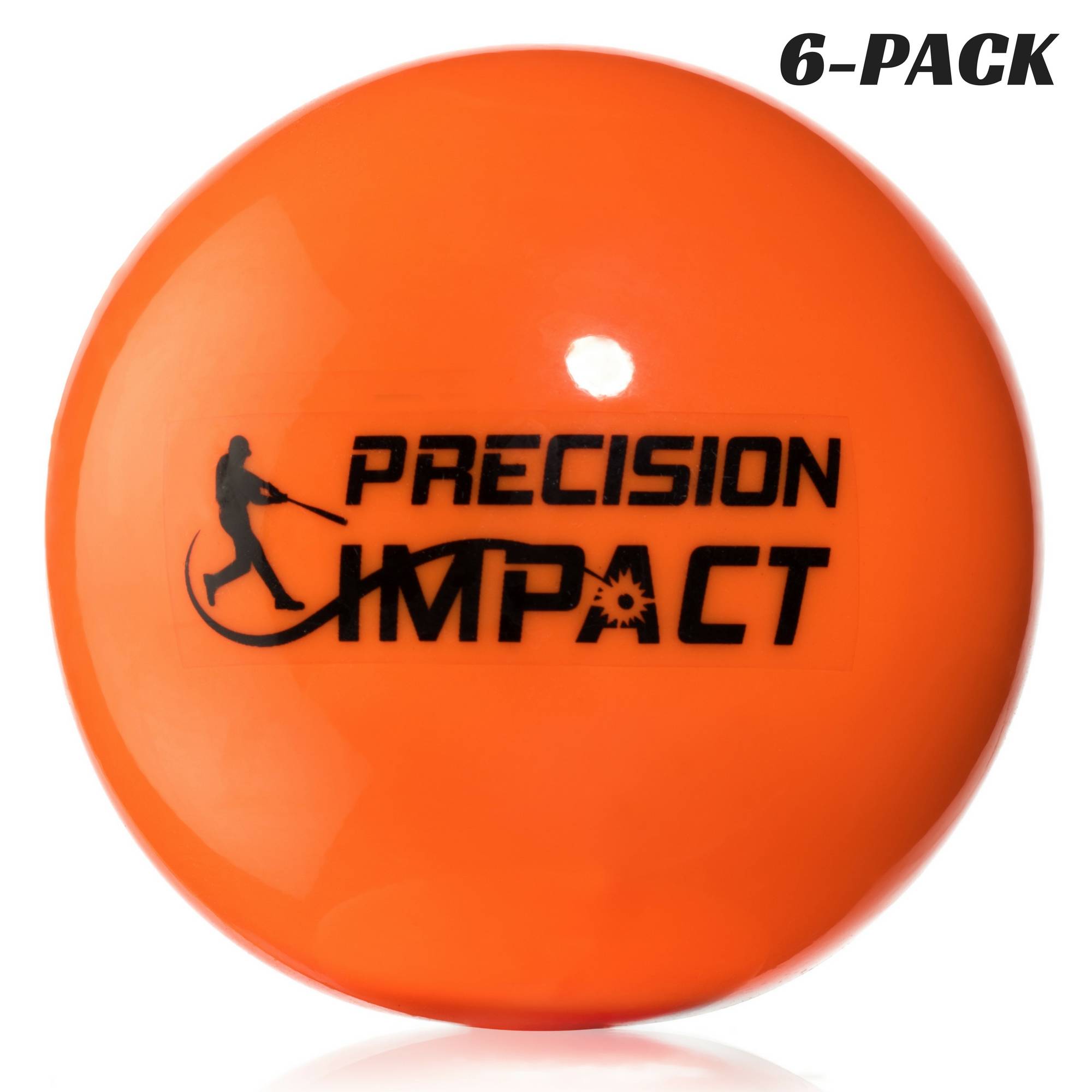 ONE Year warranty!!
No other company offers such an amazing warranty!! If your ball breaks in the first year, simply send us a picture along with your order number, and we'll replace it on OUR shipping!
QUESTIONS? COMMENTS? WE LOVE TO HEAR FROM YOU!
If you need to contact us with questions, feedback, testimonial or a suggestion, please send an email to support@precisionimpact.ca. All emails are typically responded to within 24 to 48 hours, except weekends and holidays.
---